How to Recover Deleted Messages, Photos from Telegram app android : Telegram is one of the best and simplest messaging application recently launched for only android operating system. Telegram is basically focused of speed of messaging and security , super fast and available free of cost for all the android version. Telegram uses cloud storage and other extremely good services which makes it quite different from other messaging application. Telegram focused of the fast speed and security of the messaging or chat. You can send messages, photos, videos , doc (zip, RAR). Hence all the data stores on cloud storage and hence you can get them back with ease. So we came up with this article to how to recover messages, photos in telegram app for android.disable blue ticks in whatsapp
Telegram application registered huge number of downloads in quick session and every body is satisfied. But sometime, chats can be  accidentally  deleted by any one and you can not get them downloaded back by simply installing it again. But we know the importance of your chats. Hence we decided to write the article about how to recover deleted photos, messages in telegram app. You just have to follow the mentioned steps and it will be done soon. So get ready to get the trick to recover deleted chats in telegram app.
How To recover Deleted messages, photos From telegram app for android : Step by step guide
After quick researched, we found the only 3 ways by which we can recover deleted chats in telegram application. so we are providing all of them, you can go for the easiest way which suites you.
First Trick : Telegram images folder
First and easiest method is to go for telegram images folder saved in your memory card or internal memory of you smartphone. All the pictures and images are stored there which you have received by telegram application through out the period. You can see all the photos or images there after deleting these images from chat directly. so you can recover deleted images in telegram app.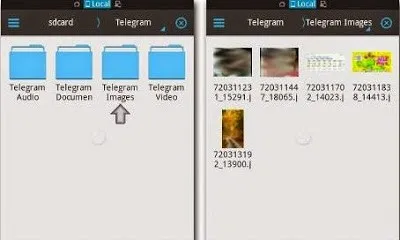 Second Trick : From the cache folder
Second way is to recover the chats from the "cache folder" where all the images, videos and other files which is sent you are saved after deleting all the files from telegram app. For this you need to search for external sd card in your phone named as "Folder android"> then you must click on the folder "data" > then inside data folder you will find a folder named as "org.telegram" > after entering in this folder you will find a folder "cache folder". Inside this folder you will find all the images sent to you.
Third Trick : Recover from "Picture Folder"
Another way to get recover delete images from telegram app is with the help of picture folder. As you know, every messaging app have this option which allows you to save all the images and photos in gallery. In telegram , when you click on any picture or images , a message is thrown on your screen by system that "Save to Gallery". When you click on yes, then every images will be automatically saved in picture folder.These images will remain in your sd card even after deleting telegram app. so you can get back all the delete photos from there too.
So we have mentioned all the step and best way to recover all the deleted messages, pictures and images in telegram app. You can follow any one of them and is there any problem occur, you can comment below. We will revert back to you as soon as possible.